I created this page so you could have a one-stop-shop place for everything you'll need help improve and restore your natural vision.
Disclaimer: Please note that a few of the links below are affiliate links and at no additional cost to you I will earn a commission if you purchase through those links. Every single one of the products listed below are products I've personally used and recommend. That's why they're on this page, not because of the small commission I'll make if you buy. I've used plenty of other products that I did not find helpful, and even though I could make commissions on them, I would NOT recommend them, and they will never be on this page.
Please do not spend money on any products if you don't think it will help you achieve your vision improvement goals.
Pinhole Glasses
This product was one of the main reasons I wanted to start this site. Besides giving you clear vision when putting them on, over time this product will improve your eyesight and you'll look extremely stylish at the same time.
Click here to find out how pinhole glasses work.
Click here to check out a number of different style options.
Vision Improvement Programs
Program for Better Vision: I first used this program back in 2006. It's a simple, straight-forward program, and the company has been around for 30 years which is one of the longest of any of the Vision Improvement programs out there.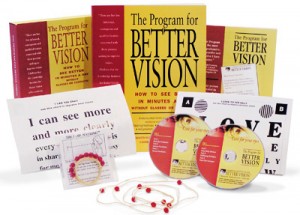 This is an excellent vision improvement program, and it does a great job of presenting the real reasons we have poor vision, and takes a holistic approach to improving your vision.
The course contains a number of eye exercises, as well as a few audio visualizations. The entire program is contained in 6 sessions on audio, as well as in an excellent, book.
The exercises in the program are for your eye's muscles, and the visualizations are for letting go of any emotional baggage that might be effecting your vision. (You can check out my post on that here.)
The program can be completely downloaded. You'll receive a PDF of the book as well as of the eye chart which can both be printed.
If you purchase a physical version of the program you'll get a tangible version of these, as well as a focus string to be used for one of the 3 exercises in the program. (If you buy the digital version they give you instructions on how to make a focus string yourself.)
One of the core things you need to do when improving your vision is to support your visual system and body with the necessary vitamins and nutrients it needs.
I've talked a lot about the role nutrition plays in our overall visual health, and the folks at Rebuild Your Vision have created an excellent supplement that gives you all of the vitamins and nutrients you need. It's called Ocu-Plus.
Disclaimer: This is the only thing on this page I have not used, as I go more towards the juicing route (see next section). But I've reviewed the contents of the supplement and give it my stamp of approval, as it has everything your eyes need to get strong and healthy. You can read my post on eye vitamins here.
Releasing Negative Emotions and Achieving Your Goals
I'm a big supporter of tapping and EFT. I highly recommend checking out The Tapping Solution to help release limiting beliefs which can keep us from achieving our goals. It's also a great resource for a number of other things including weight loss, improving relationships, and  attracting wealth and money.
Read my EFT for Eyesight tapping script here.
Click here for my post on how negative emotions can effect your vision.
Juicing
Juicing is really one of the joys of life. Really.
It's an easy way to get the vitamins and minerals you need into your system in a delicious way.
The resources I recommend for juicing are: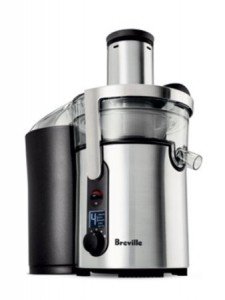 Juicer: Obviously you'll need a juicer. This is the juicer I have and love, but there are a number of products out there to fit any budget. The only thing I'd recommend, is to choose a juicer with a wide funnel mouth.
This makes juicing easier (because you don't need to cut up anything, you can throw a whole apple in) and makes the juicer much easier to clean.
This post talks about the vitamins and nutrients you need for your eyes and which foods have them.
There are 2 books I recommend for juicing, both by Jason Vale (AKA Juice Master):
Juice Master: Keeping it Simple – This book has an amazing selection of juice recipes that you can concoct, and Jason walks you through everything you need to know about which fruits and veggies will help any ailment you might have.
7 lb in 7 Days: I just had to plug this book because it's completely awesome! In it, Jason outlines everything you need to know about juicing. His philosophy on health and nutrition will dramatically improve your life. And I guarantee that if you adopt his philosophy you'll find that you're eyes will start dramatically improving!
Reducing Your Prescription Cheaply
I've found that it does take time to restore your vision. And as you travel along this journey you are going to need to replace your glasses with weaker prescriptions.
Glasses bought at a store or from your eye doctor can be crazy expensive, costing upwards of $400 or more!
Luckily there's an amazing company out there that will get you glasses for cheap. In fact they have frames starting at $7 and rimless frames starting at only $20!
The company is called Zenni Optical. They have a wide variety of frames to choose from. You simply give them your prescription and they'll ship it to you within about 2 weeks.
At $20-$40 a pair, it suddenly becomes much more affordable to replace your glasses every few months as your vision improves.
————
Liked what you read? Join the hundreds of others who have downloaded and benefited from my Free e-book on Vision Improvement. Put your information in the form below and it will be emailed to you immediately.