I'm now more than halfway through the Rebuild Your Vision Program. I had a number of insights this week into vision improvement, but I'll get to that in a moment…
The first thing I want to mention, that I'm really excited about, is the new site redesign. I've upgraded to a new theme from StudioPress which is supposed to be much better for SEO and user functionality. Below are screenshots of the before and after:
Before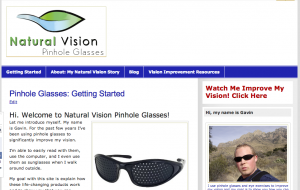 New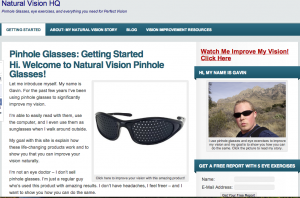 What do you think? I feel it's a big improvement.
I'm also in the process of rebranding the site. Originally, my intention with this site was to focus exclusively on pinhole glasses. Eye exercises were only a secondary part of the blog.
I know want to turn this site into a resource for everything related to vision improvement. Hence this site is going to become Natural Vision HQ (headquarters) and cover all topics related to vision improvement.
Alright, enough of the boring technical stuff, on to this week's vision improvement results!
The Truth About Vision Improvement
I had a realization this week. I'm halfway through the Rebuild Your Vision Program and while I've certainly noticed an improvement in my vision, I don't think I'll be able to get rid of my glasses in a month when I finish the program.
Not that I originally thought I would, but it was in the back of my mind. I was hopeful that I'd be able to accomplish this and be able to show it on the blog.
That being said, this program has definitely not been a waste. I've noticed a number of other things that have improved, many of which I hadn't even thought of before starting the program.
Eyesight Improvement
While I don't think I'll be getting rid of my glasses in the next month, I have definitely noticed a significant improvement in my eyesight and I think I'll be given a reduced prescription when I go to the eye doctor next month. That itself is a significant achievement, especially when you consider that most conventional eye doctors say that improving your vision is impossible.
Stronger Eyes
I've also found that even with my glasses on I'm seeing better than before. I'm reading faster and with better comprehension and I'm able to see details that I would have missed before.
This is especially helpful considering that I was just promoted into a different role in my job.
I used to be the company writer, now I'm in charge of all packaging design. I work with the graphic designer and industrial designer to create our products and their packaging. Trust me, there's a lot of detail that goes into it and I'm sure my vision training has helped me significantly in this role.
Seeing Colors More Vibrantly
A few months ago I wrote and article about why our eyes see color and it's role in survival. I've definitely noticed a change in my perception of color. My entire experience with the world is now so much richer and enjoyable because of it – especially my experience with food.
Less Eye Fatigue
Working in high tech puts a lot of strain on your body – especially your eyes. In the past month I've found that my eyes have become significantly stronger, and don't tire throughout the day.
This is counter-intuitive especially during this time of year when we spend most of our time indoors, seeing less sunlight. Yet my visual energy has actually gone up!
Vision Improvement Doesn't Necessarily Mean Getting Rid of Your Glasses
While the eventual goal is to eliminate wearing your glasses, that doesn't mean you can't benefit from vision improvement right now.
Like I just mentioned, you'll find that tasks like reading are easier and more efficient to do. You'll also become a better, more alert driver and sports players will find they have improved hand-eye coordination giving them an advantage on the playing field.
I Started Reaching Out This Week
Now that I've started seeing a measurable change in my vision, I decided this week to start reaching out to other bloggers in the health and wellness niche to see if what I'm doing would be of interest to their audience.
I've had a few favorable responses, so it's possible you might start seeing my name some other places shortly.
That being said, if you know of another blog I'd really appreciate in getting my story out there. You can simply send them an email recommending they promote my site.
You can also share the site on Facebook or Twitter. I have a sidebar on the left of this page that should make it easy to share.
That's all for this week. I'll post again next week with all of the other exciting thing happening to my vision. Until then, have a great week!